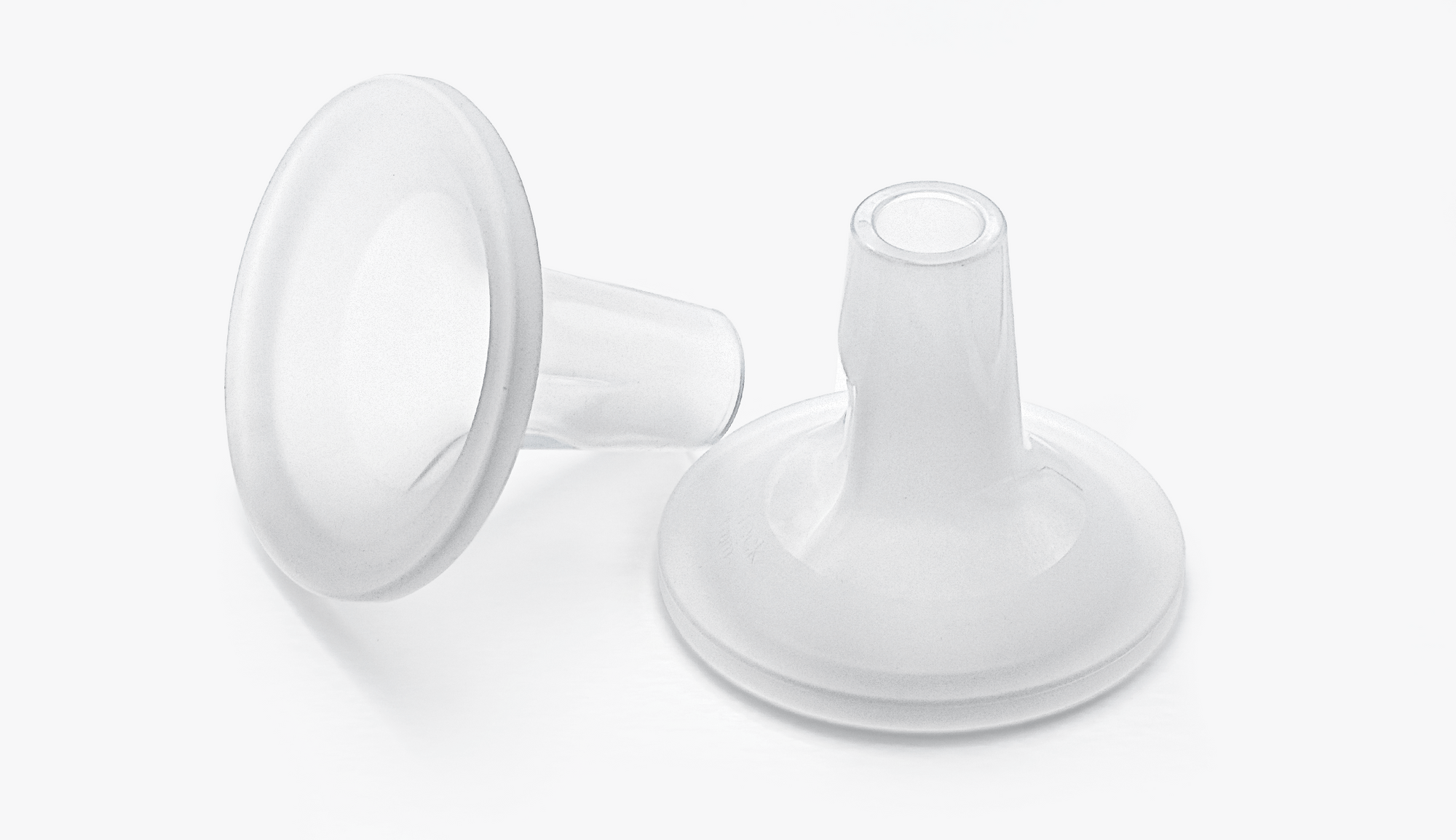 4th Gen BabyMotion Flange - One pair
Description
FAQs
Testimonials
DESCRIPTION:
Please check the Size Chart before ordering as our flanges have a different design than traditional plastic flanges and sizes from different brands are not directly comparable.

BabyMotion Flange transforms pumping into nursing by mimicking a baby's suckling motions. It stimulates nipple and areola, increases pumping efficiency, is soft and comfortable. 
BPA free. Food Grade. Includes one pair for double pumping.
Directly compatible with all Medela, Lansinoh, and Hygia pumps. Please check the FAQs section for how to with other pumps and email contact@lacteck.com for additional questions. 4th Gen improvements over 3rd Gen: softer and more comfortable and discreet design and material. 
How to use the BabyMotion Flange?
The flange is used as any regular breast pump flange. However, because it's soft, it will "absorb" some vacuum so you may need to turn your pump up a little bit. When using, please insert tightly into the connector to ensure a good seal.


Which breast pumps are the BabyMotion Flange compatible with?
The flange is directly compatible (no adapters needed) with Medela, Lansinoh, and Hygeia pumps.
To use with Spectra or Motif pumps, please refer to this Spectra and Motif Hack. To use with Willow pump, please refer to this Willow Hack. To use with Freemie cups, please refer to this Freemie Hack. To use with Spectra cups, please refer to this Spectra Cup Hack. You can also use it with Baby Buddha pump by following the component hacks.


How to use the BabyMotion Flange with Spectra pumps?
We usually recommend getting the Maymom Spectra Adapter for use with Spectra pumps.


What sizes of BabyMotion Flange are available?
We currently offer 12mm, 15mm, 18mm, 21mm , 24mm, and 27mm.


What size of BabyMotion Flange should I get?
Please note that the BabyMotion Flange has a different design than regular plastic flanges so sizings from different brands are not directly comparable. You can measure your nipple size before pumping using the Nipple Caliper and then refer to the below sizing guide (we suggest before pumping measurements especially if you have elastic nipples). If you have additional questions, please email contact@lacteck.com.
Pre-pumping Nipple Size ---------->BabyMotion Flange Size
10-12mm ------------------------------->12mm
13-15mm ------------------------------->15mm
16-18mm ------------------------------->18mm
19-21mm ------------------------------->21mm
22-24mm ------------------------------->24mm
25-27mm ------------------------------->27mm


Why is the BabyMotion Flange so heavy?
The flange is heavy because we have to ensure that the breast pump efficiency is not compromised when using a soft material like silicone. Because it's heavy, please make sure to disconnect the flange first once done pumping to prevent bottle from tipping over and losing precious breast milk. We also recommend using a tight fitting pumping bra.


How to clean the BabyMotion Flange?
Before first time use, wash with warm soapy water and steam for 3 minutes to sterilize. Afterwards, simply wash with warm soapy water and air dry. It's ok to sterilize with steam occasionally but we do not recommend frequent steaming as discoloration may occur.


Why does my BabyMotion Flange fall off the connector?
Most likely due to it not being inserted tightly. Please use a twisting motion to insert it all the way into the connector. Please refer to this instruction for more details on how. It could also happen when there is residual milk/oil left on the flange or the connector. We recommend using warm soapy water or baking soda to thoroughly wash both parts.


Can I place my BabyMotion Flange in the fridge between pumps?
No. We don't recommend it because they will be cold and attract moisture once taken out of the fridge, making them slippery and hard to stay on the connector.


Can I use coconut oil or other lubricants with the BabyMotion Flange?
Yes, although we suggest washing the oil/lubricant off with warm soapy water thoroughly after each pumping session.


How often should I replace the BabyMotion Flange?
The BabyMotion Flange should last a few months and only need replacement when you notice cracks or discoloration.
The baby motion flange is amazing! I get more milk out (2.5 Oz for one session) in less time. I even use it with a manual pump and I'm able to squish it around to mimic a baby sucking! I love that I can fold it back and line it up perfect every time. I highly recommend to everyone!!
Heather, Middlebury, IN


So I've been using these flanges exclusively for about 4 weeks now. Ladies, these are amazing. I didn't have time to wash them yesterday and had to use my spectra flanges.. I average about 16oz per pump with the silicone flanges and I got less than 12 oz with my spectra. I'm at 18 oz this morning and still going so I'm pretty sure my spectra flanges did not empty me well at all. I'm a believer!! Totally worth trying!
Katie, Marshall, IL


After using the flanges for two weeks, I would highly recommend them to any pumping mother. The BabyMotion Flanges cause minimal discomfort while pumping (much less than the rigid plastic flanges) and leave no pain after pumping, which is impressive since I am now turning up the pump to a much higher suction level than I used to when I only used the plastic flanges. On average, I am pumping 0.75-1 oz more per day with these flanges. Some days the difference is as big as 2-3oz. Since the material is heavy, make sure to detach the flanges once you're finished pumping so that the milk-filled bottle doesn't tip over.
Jessica, Forest Hills, NY


Using the BabyMotion Flange, I pumped 2.5Oz more than usual. I did feel the stimulation and it's very soft and comfortable.
Desiree, Tampa, FL


I produced 1.5oz more milk from breast using BabyMotion flange than breast with regular flange. It was also extremely comfortable and soft, it didn't feel like the same pumping experience. I was shocked by how comfortable the experience was!
Jennifer, Ames, IA


Just used for first time and I loved them! My nipples have no pain like normal from my hard plastic flanges and I emptied very fast, I kept pumping my normal 20 minute session but had same output at 10 minutes that I had at 20!
Emily, Virginia Beach, VA


By using the BabyMotion Flange and Baby Buddha Pump, I got about 1 ounce more out of each side each pump! It did SO good!
Jandi, Willowwick, OH


I received it yesterday and have used it every pump since. I've actually noticed I'm getting more output on the side I'm using it on!!
Nichole, Bay City, MI


I was able to pump 1.0-1.5oz more in the same amount of time with these over my plastic flanges. Also, they don't hurt, which is awesome when you're pumping your nipples off. A must have for the pumping moms arsenal!
Regina, Bergholz, OH


Fellow pumping Moms, I'm really wary of most products out there, but this is a game changer. Yes, I have it. Yes, I use it every day. I don't think I would have made it this far without this flange.
Joanna, Newland NC


It was nice and soft and comfortable. A lot more comfortable than the Medela or Spectra flanges. I have bruises on the underside of my boobs from them.
Elizabeth, Franklin TN


WOW! These flanges are amazing! They have been a game changer from the first time I used them. I was dropping supply and felt like my pumping journey was slowly coming to an end, but these flanges have helped me increase my supply again! They stay put and feel 100 times better than the hard plastic flanges. They are truly much closer to my baby's natural sucking. I am so impressed and happy! Thank you so much!
Margaret , Rocklin, CA


I love my BabyMotion flanges!! I wish I had these for the first 7 months that I was breastfeeding, but better late than never! Not only am I able to pump more, but I can pump more in less time than before!! And they are so much more comfortable than traditional flanges! I have already recommended them to my pregnant sister and my best friend. I honestly can't think of anything that needs improving. The 2nd Generation improvements are great!
Sheila, Chelsea, AL


I love these flanges! They are so much more comfortable than my plastic ones - no pinching or friction at all. They also make it so much easier to massage while pumping because they are so flexible.
Caitlin, Boston, MA


I've noticed i empty better since using the lactek flanges, they are more comfortable than the hard plastic ones.
Heather, Morenci, MI


I used them for the first time this morning and love them I've been exclusively pumping for 5 months and have had with chaffing and with the plastic flanges I just dreaded pumping because it hurt but I was able to pump with the baby motion flags with no pain I love this product
Andrea, Richmond, MI


It's so comfortable pumping in comparison to the hard plastic standard ones and works wonders pumping more than normal ones too!
Sariah, Spokane​, WA


I stopped responding to my flanges, which is scary for an exclusive pumper, who has tried everything on the market. I came across these flanges and was able to express milk quickly and comfortably, I recommend these flanges to everyone. I am going to order more to keep around at home and work.
Amy, San Ramon, CA


I have elastic breast tissue: when I pump my entire nipple swells up to the size of the flange I'm using and most of my areola is sucked into the flange as well. It makes pumping extremely painful. I've tried all sorts of remedies - buying larger flange sizes; buying different manufacturer's flanges; buying different lubricants. I came across LacTeck via Google. I was extremely skeptical and hesitated for a few weeks because I didn't want to spend another twenty-something dollars on something if it wasn't going to work! I did end up buying the Baby Motion flanges and the BeauGen cushions. It was amazing! This is the first time I've ever pumped without pain! I actually stopped breastfeeding my first baby when my maternity leave ended because I couldn't stand pumping. I'm currently breastfeeding my second baby and so relieved that nursing can end when we want, and not stop because of the pain of pumping!
Elisabeth, Washington, DC
4th Gen BabyMotion Flange - One pair
Love the concept
Love the concept of it, I just wish there were bigger sizes..I ended up getting blisters
Love
I love my LacTeck flanges!
Never received
My shipment has not arrived
Hi Lauren, so sorry to hear that and thank you for letting us know! We have reached out to USPS and will let you know once we hear back. In the meantime, we will send you a new one tomorrow.
Disappointed
Purchased after seeing reviews on social media. Very disappointed. Gave them a second try and used them last night— now my breast has been hurting ever since. Also, I don't feel like they empty my breasts as well as my normal plastic flanges. They are also very hard to get into the attachment I bought for my spectra (from the hack on the website), making them awkward and probably less effective. Wish there was a money back guarantee if you aren't satisfied. Big waste of $30.
Hi Kelsey, thank you for leaving your feedback and sorry to hear that you didn't have a good experience. Do you think the sizing may have been an issue? In terms of the Spectra adapter - please send a picture of your setup to contact@lacteck.com so that we can help troubleshoot. Thanks.
Not the best
Gave me a clog in one breast!
Hi Sarah, thank you for leaving your feedback and sorry to hear that! Do you experience any pain during pumping?